Inner Circle : Cosmo Baker
We had the pleasure of bringing the veteran Cosmo Baker to Boston a couple months back to play #TheWaveBoston, and he couldn't have delivered a better experience to everyone that night.
I remember picking him up from his hotel a couple of hours before he was slated to go on, and being immediately impressed with how laid back and genuine he was. Having been to Boston before and developed longstanding ties with a few folks here, you could tell he was naturally at ease in the city. Being from Philly, we talked about not only the importance (albeit somewhat annoying) of sports teams, but whether they win or lose, to the overall general mood of a city.
learn more about this amazing cat, after the jump!
How did you first get into DJing?
Getting into DJing was a very natural thing for me. As a kid growing up in Philly, hip-hop was something that was all around me – from banging on the tables at lunchtime in school, to watching kids break dancing on cardboard on Chestnut Street, to being enamored of the graffiti that was plastered all over the walls of the city (which was truly my first love.) And this was before hip-hop was part of mainstream pop culture, so it really felt that this movement was something that "us kids" really could claim as our own, and was really subversive at the time. Now I grew up in a household where we were constantly exposed to the arts and music, and personally I always had a strong sense of curiosity as well as the need to be somewhat of a "collector." I would always be exposed to whatever new tunes were coming out at the time, LL Cool J, Run-DMC, Whodini, Fat Boys, all that good stuff, and would hear songs played by people who would walk around with huge boomboxes in the streets or on the subway, and then of course the radio was hugely instrumental as well. I used to stay up on the weekends and tape the radio shows, and in school people started to ask me to make copies for them with all the new stuff, so I would make these pause-tapes that people would play at house parties. Eventually I made the decision to just start buying the music outright (first on Cassingles and then on 12"), and so once I was at that point I just decided to dive in and buy two turntables and a mixer. The rest is history I guess!
Who/what gives you inspiration?
There are so many things that I get inspired by that it's almost impossible to narrow it down to just one thing. I get inspired by the work (and the success) of my friends and my music community, my mom and my siblings for certain, people who do the right thing, people who push boundaries, and perhaps out of a fear that I have on never wanting to stagnate… which may not be the healthiest thing haha. Also I try to draw inspiration from other places – I love architecture, I love design, I love to cook. I try to draw inspiration out of all those things. Speaking of cooking, Tony Bourdain inspired the fuck out of me to be honest - RIP. But at the end of the day, I'm inspired and driven to just always be involved and create dope shit.
You've been in the business for decades, what's some advice you can give to people who are just starting out? Or for those who don't know where to start?
The first thing I'd say is DON'T DO IT! Haha just joking on that, but I would ask them to understand that just like any trade or craft that it's not the easiest thing to master. It takes a lot of devotion and patience and you can't be good overnight, no matter what people say. For those that are just starting out, nowadays there are plenty of resources out there that can help serve as an entry point. If you don't know what you're doing at first, just try and copy stuff that you like. It will be out of that developmental period that, over the course of time, you'll start to develop your own voice in this. That is one of the second things I would offer – don't be afraid to grow and evolve. And as your artistry grows, know that to have longevity in this game you have to allow your career to grow in whatever way it can. The longer you go in this the more you're going to need to focus on income diversification. And that brings me to the third and most important thing – do not get into this because of the money. That's a losing bet, and if your heart and soul isn't in this people will be able to tell, and you will not be happy. Get into this because it's something that you love and want to share with the rest of the world. That is what will set you apart and that will be what gives you both longevity and happiness in your career and your life.
Do you think being from Philly is a differentiator for you?
That's a good question and I don't think there's an easy answer. Obviously people have often talked about the "Philly DJ" culture about how we are special or different, because we have a rich history and community. People sometimes attribute that to the close proximity to NYC and how Philly has always suffered from the "little brother" syndrome in that regard, and also Philly clings to its underdog status for better or for worse. Personally I've just always thought that so much of it goes right to how critical people are in Philly, and your crowds used to be hypercritical so much to the point that if they didn't like what you were doing, they would let you know in a heartbeat. So to that, it made DJs have to get really good, really quick, or else your crowd would not be having it!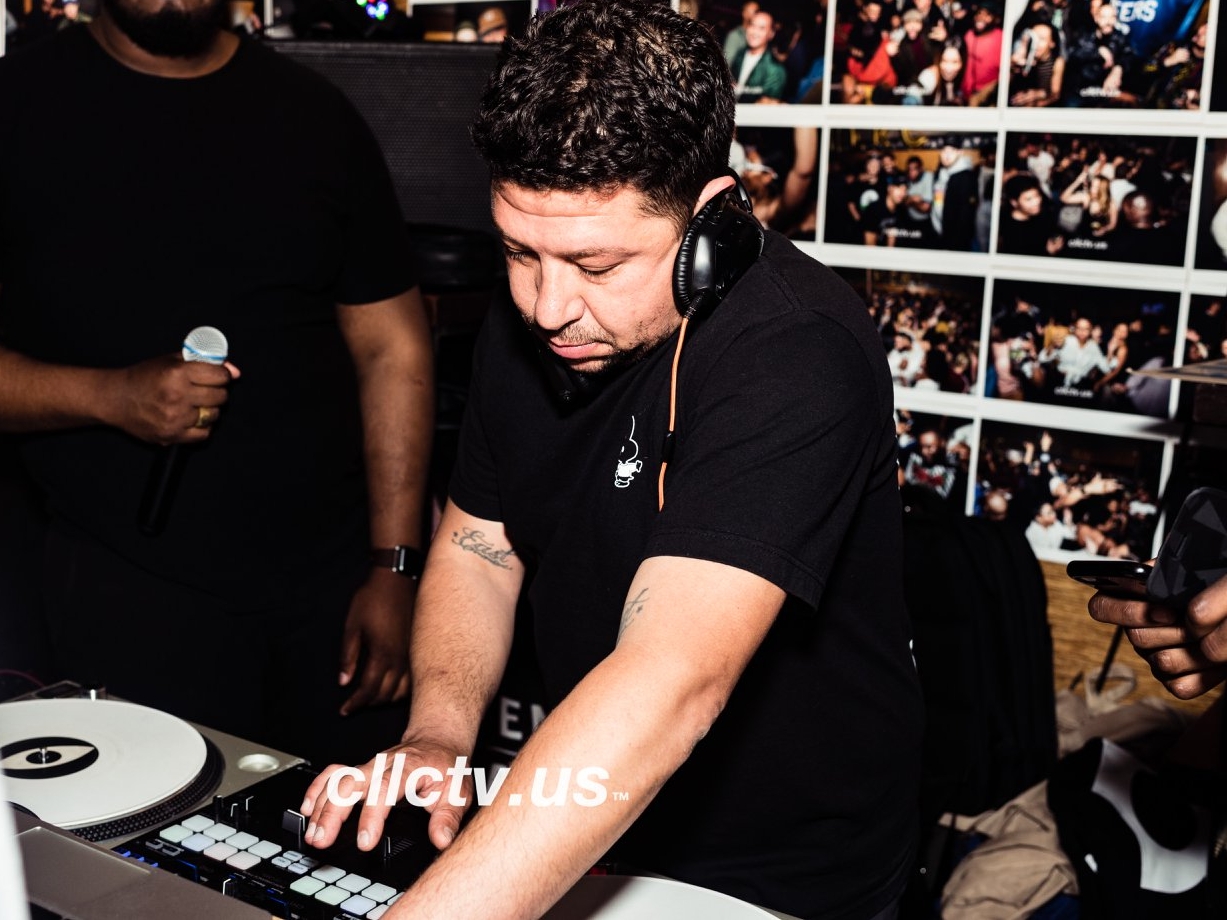 First of all, don't ever stop practicing.
Work at honing your craft, perfecting it, and once it's perfected, rip it apart and rebuild it from the ground up. It's build and destroy. Surround yourself by like-minded people who also like to push boundaries. Steel sharpens steel. Do not allow yourself to stagnate. There are so many people who refuse to evolve, and it does them a tremendous disservice. Stay curious to the point of uncomfortability. Challenge yourself to try new things, learn new types of music and sounds, and learn new disciplines, new techniques, new software and new hardware. Listen to what the people are saying, and at the same time don't be afraid to talk to the people and let them know where YOU are coming from.
Can you tell us a little bit about the Scratch Academy and what impact it's had on you?
I am so grateful for the experience that I had in opening and running Scratch DJ Academy Philadelphia. After having worked with the company since the mid 00's we came up with the plan to launch in Philadelphia, and we worked really hard to get it off the ground and running. Just over the past couple of years I personally have learned so much more about running a business, it's like I had on-the-job training and got the equivalent to earning my MBA. And so many of those skills I am now able to apply to further endeavors that I'm currently involved with. Unfortunately a few months ago we had to shutter the doors at Scratch Philly, but that's just a facet of the entrepreneur life and it was an amazing experience that I have been enriched immensely by.
What kind of music do you feel the most connected to?
Well I'm a hip-hop head through and through so it's always going to come back to that. But at the same time if there's anything I love the most it's probably disco music – that's probably the music that will get me dancing the quickest.
What's your favorite place you've played?
I've literally played all over the world so that's a difficult question to answer because I love what I do in general! I love playing in Brazil, which is truly a magical place. I love playing in Japan; I love playing in South Korea and New Zealand. I LOVE LONDON – one of the dopest places to play no question. Also Helsinki is one of the best places for DJs to play – the crowds are always so open and informed, and just know their music. Also, I can't front that one of my favorite places to play in Los Angeles. LA is, in my opinion, so far ahead of the game in the case of great vibes and also just with new sounds. There's no music scene in the US that's as awesome as LA right now.
Would you ever live anywhere other than Philly again? We know New York had your eye for a while!
Well I lived in Brooklyn for the better part of 15 years, so especially having lived there for so long during some seriously formative years, New York is just as much "home" to me as Philly is! And my girlfriend lives in Brooklyn so we talk about this all the time, and chances are I'll probably end up back in NYC within the next year or so. But honestly if I don't end up back in New York the only other place that I would live would be Los Angeles. I have way too many friends that are there – probably more so than any other place – and you really can't argue with that weather and the sunshine.
Is there anyone on your radar that's up and coming from your area?
The one dude that everyone needs to be up on is my main man Jabair. Aside from being one of my closest friends, he's just one of the most talented dudes in the game right now. He came on to work with me at Scratch Philly and we ended up becoming great friends and partners in music. And him and I are working on a new project together that I think is going to change the game for both of us in 2018, so watch out for that!
Favorite genre to play right now?
I love playing everything – if I don't love it or I wouldn't stand behind it I wouldn't play it in the first place. And of course playing hip-hop and R&B is always going to be "the thing" for me but no matter what, I always have to bring it back to the old school! I love playing classic disco and classic R&B joints. There's nothing like it in the world.
Provolone, American or Whiz?
Well I guess if you were gonna do like a proper cheesesteak you'd have to at least try it once with Whiz, which has its merits and allure. But I'd probably choose American over anything else.
Pat's or Geno's?
NEITHER! They're gross, highly overrated tourist traps. The only reason why anyone goes to either is because they're open 24 hours, and the best time to get a cheesesteak is when you've been drinking and it's late night. And I guess if I had to choose between the two I'd go for Pat's over racist-ass Geno's. But in lieu of getting a cheesesteak, I'd opt for the roast pork sandwich with provolone and broccoli raab from Dinic's. THAT is a sandwich worth traveling for. Other good cheeseteak options are, in my opinion, Dalessandro's in Roxborough, Cosmi's Deli in South Philly, and Max's Steaks in North Philly.
Any must-hit spots for people traveling to Philly for the first time?
A few of the things that I would suggest when visiting here for the first time is to just walk around some of the neighborhoods and catch a vibe. It's a really lovely city, very walkable, and incredibly charming. It's a huge city but at the same time has a sense of intimacy that you can't get from other cities of comparable size. I would suggest that first timers in Philly visit Reading Terminal Market, The Rail Park, the Schuylkill River Trail, Fairmount Park, and the rooftop Bok Bar. Maybe not all in one day though!
please.pleaseplease check this guy out, he's the real deal, and we can't wait to have him back in the Bean!
- Kibs